For most people, taking care of their pets is like taking care of their own child. They only want what's best for them and that includes the choice of veterinarian.
Your veterinarian website design is often the first impression that pet owners have when they are looking for the right vet for their pets.
How you present your veterinary clinic is just as important as how you take care of the animals that come through your door!
We'll help you get inspired and make the right impressions with these selections of the best veterinary websites online right now in 2022.
(Click the website image to visit the website)
1. Animal Care Hospital of Phoenix
Our first veterinary website provides a stellar example of proper brand color usage and easy access to information.
It's easy to see how they are directing visitors to make the proper action, either by scheduling an appointment or calling them directly. In addition, they waste no time highlighting their staff and veterinary services, leaving no stone unturned.
The overall layout of this website is one well worth replicating. The sections are clearly defined and easy to navigate. This ensures an optimal user experience.
2. Richland Animal Clinic
What an exceptional start of a website. Just look at how cute that pup is right alongside the clinic phone number, social media links, and button for scheduling an appointment. This is how you make an impression!
It's immediately followed up with a custom-made video introducing you to the clinic and the staff. This is how you go from making an impression to starting a relationship.
Finally, their services, reviews, and bios pages are made available so no matter where you're at in the decision-making process, there are clear directions for the visitors to take.
3. Orlando Vets
A unique interface that is well put together and easy to navigate.
What we really like about this website is the untraditional left side "sticky" menu and their use of the tabs feature. They use tabs to showcase the information for each of their multiple locations. This makes it extremely easy for visitors to find the correct contact information for the location nearest them.
Each section is uniquely designed to support the content and provide additional information and call to action for their visitors.
4. Compassionate Pet Vet
Sometimes, keeping it simple is what's best for your audience and the team at Compassionate Pet Vet understands that.
The website is simple, subtle, and clearly made to serve the visitor's needs. After all, if you specialize in euthanasia, people aren't here to gawk at your website, they need your support.
This is a great example of keeping your audience's needs first.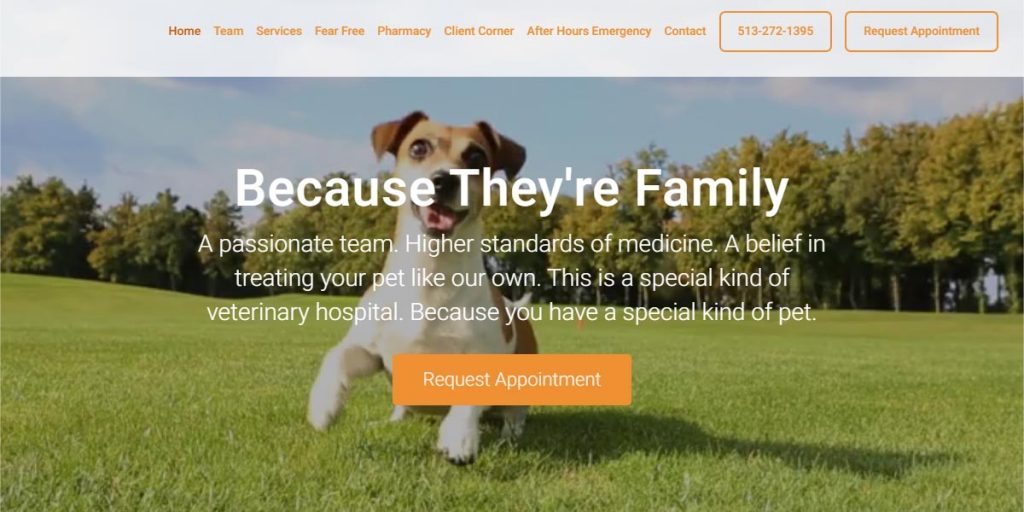 5. Red Bank Veterinary Hospital
Another example of an untraditional but well-designed website, the Red Bank Veterinary Hospital is designed around a very specific user action: scrolling.
In some cases, this could be very hindering for the user experience. But here, it's done very well and that is thanks to the simplicity of the website design and content.
Simplicity doesn't mean you can't have robust design features, however. The homepage header is wonderfully designed with a fast loading (and cute) video and the most important feature of all, the "Request Appointment" button.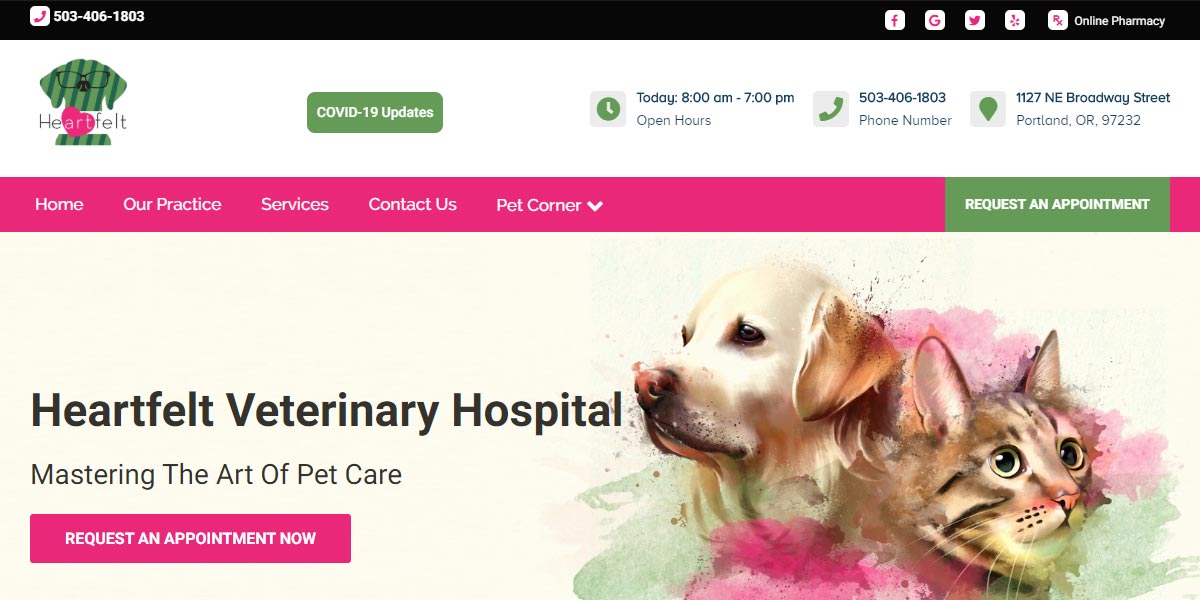 6. Heartfelt Veterinary Hospital
This is an example of a really well-done design that perfectly harmonizes with the brand colors.
Typically, bright colors can be difficult to work with in web design but here, it is executed beautifully. The contrast color of green is being used perfectly by only using it to highlight the header, the menu contact information icons, and the appointment button.
The design is also well put together in that it has a great "flow" to it as you continue to scroll down. They make sure to showcase important information such as featured services, the referral program, and most importantly, positive reviews.
7. Greenbrier Veterinary Hospital
Here's another example of a design using the left side "sticky" menu. We really like the highlighting feature that occurs when you hover over the menu options and the way they designed how the sub-menu expands when you click on a menu option.
Again, clearly defined sections of content are important in vet web design and you can see it in practice on the Greenbrier website. It makes it easy to navigate and read when you have a lot of information to say on any given page.
If you're active on social media, consider incorporating the appropriate social media feed to your website. Here they are using Facebook and have incorporated it to their homepage to showcase their latest posts, giving users easy access to their Facebook page.
8. The Veterinary Hospital of Davidson
Something unique to veterinary website design, a header with a carousel of images and text on the left and their contact information and logos on the right. Very unique and well-done!
Something else to consider in your design, your use of videos. Here, the homepage and some individual "about" pages have high-quality videos introducing website visitors to the veterinarians. This greatly helps to establish a relationship between your practice and pet owners before they even walk through your door.
Their online pet health checker is another great addition to the website that helps website visitors determine if their pet's symptoms require immediate attention or should just be monitored.
9. Altitude Veterinary Hospital
Another example of great branding and use of brand colors.
The homepage slider moves just a tad too fast for our taste and may be too simple but the images and menu beneath are both very well done.
What we really like about the homepage is how clean the design is. Everything has its own space and sense of depth and playfully uses alignments in interesting ways.
Another great design idea is how they have their appointment Call to Action button accompanied by common pet owner questions.
Finally, the "how did you find us today" widget that appears on the bottom left corner could be a great way of obtaining this kind of data from users, but we can't be sure if users are actively submitting this information.
10. Los Angeles Veterinary Center
Our final best vet website keeps its homepage introduction simple with the use of video and immediate Call to Action buttons.
From then on, they waste no time displaying important information in each of the clearly defined sections that include discounts, specials, and contact information.
Their portals for asking questions, booking appointments, and online forms are a great way to present users with helpful information and next steps. We only wish it were higher up in the layout instead of being tucked near the bottom!
To Conclude…
When designing your veterinary website, we recommend that you visually support your branding with proper color usage, have simple menu navigation, and make sure your design loads and appears correctly across all screen sizes.
To have the very best veterinarian website design consider having:
High-quality images of staff and animals
Easy access to vet info including phone, address, contact forms
A display of your positive reviews
Service pages with information and prices
Easy to read font with well-spaced paragraphs
A well developed about page
Videos of the faculty and facility
Consistent branding in the design and color choices
Having these features on your website will be sure to leave a positive, lasting impression and provide users with a design they can really snuggle up to.
After all, if you don't take care of your online impression, how can they expect you to properly care for their pet?
If you need help designing your veterinary website contact our web design team. With over a decade of experience in the industry, we bring the very best in web design to our clients.
The key to success online is in the design of your website, contact our veterinary web designers today!