Follow these steps to set up, or configure, your email account in Microsoft Outlook Express 6, but they are similar in other versions of Express. Email Configuration Settings
1. Open Microsoft Outlook Express
2. In Microsoft Outlook Express, from the Tools menu, select Accounts.
3. Go to the Mail tab and from the Add menu, select Mail.
4. In the Display Name field, enter your full name and click Next.
5. In the E-mail address field, enter your email address and click Next.
6. On the E-mail Server Names page, complete your information as follows, then click Next:
My incoming mail server is a POP3 or IMAP. What's the difference?
Incoming mail (POP3, IMAP or HTTP) server: mail.josiesque.com
Outgoing mail (SMTP) server: mail.josiesque.com
7. In the Account Name and Password fields, enter your full email address and password, and then click Next.
8. On the setup confirmation page, click Finish.
9. On the Mail tab, select the account you just created, and then click Properties.
10. Go to the Servers tab. Select My server requires authentication, and then click Apply.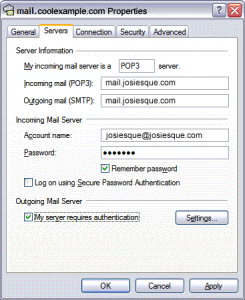 11. Go to the Advanced tab. In the Server Port Numbers section, make sure the Outgoing mail (SMTP) is 25 or 26, (many internet service providers use 26); AT&T Uverse sometimes uses Port 465, and then click OK.
Your Outlook Express account is now set up. Click Close to close the Internet Accounts window and return to your Outlook Express.