Last month Facebook updated it's "Nearby" tab in the mobile platform to include the ability to search for local businesses based on your current location. For brick-and-mortar businesses, this is a great reason to have a Facebook Page and keep it up to date. According to HubSpot, what is the best way to get the most out of these updates?
Great question! If your business has a brick-and-mortar location, here's what you should be doing to make sure you show up in the Nearby tab …

First and foremost, create a Facebook business page! Follow our simple step-by-step instructions, accompanied by a video tutorial, to get set yours up today.
Make sure your page is updated with all your business' basic information in its 'About' section, especially your physical address, store hours, phone number, and other critical company details.
Check to ensure your page category is accurate, so people will be able to find you when looking for your specific type of business. To change your page's category, click 'Edit Page' from the top of your page, select 'Update Info,' choose the page grouping and the appropriate category for your page, and then click 'Save Changes.'
Encourage engagement! Use your marketing assets to motivate your mobile Facebook users to Like, check into, rate, and recommend your place page in Facebook mobile.
Want to see what your Business Page looks like on the Nearby tab? Simply grab your phone and go to your Facebook App. Click on the three white lines in the top left corner of the screen, and this menu will pop out from the left.
Click on Nearby.
If your GPS is enabled in your phone, a map will update to your current location. You will now see a listing of businesses near you! Clicking on a business listing will then show you the Business Page. You can then "Check In" here, "Like" the Business Page or Contact them, depending on what information is entered in the About Us section.
If you were to click on the Nearby search button, shown on the left graphic near the top, a category list appears. This will allow you to narrow your search by Venue, Cuisine or Attraction.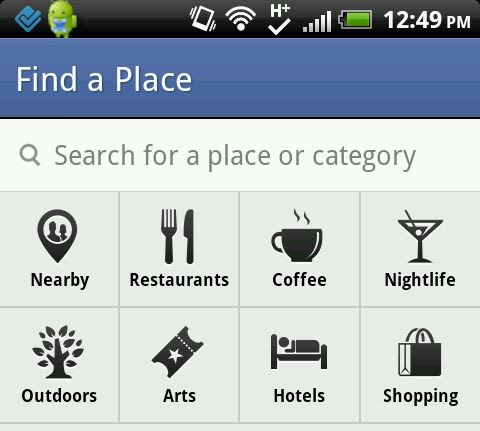 Need help enhancing your Facebook Business page? See our services concerning Online Local Business Listings today!